Going for the Nationals
Arjun S Kumar of Std 1E has been selected to represent the Karnataka state team in Skating in the boys 5-7 age group category for the National championship.
The trials for the selection to compete for Nationals were held between 13th to 17th November this month at Mysore and he came first and received a Gold medal. He is now adjudged as the State champion for his category and will represent Karnataka in the National skating championship which will be held in December 2019.

Adithya J Kamath of Std 4 C continues his winning streak by winning the second place at the IGU Southzone tournament (Category D) at Hyderabad Oct 14th to 16th; and the third place at the Karnataka golf association junior golf tournament on Nov. 18th (category D).

Naven N D'Almeida of Std 2, age 8, weight 50 kg, category - Sub Junior, represented Karnataka Taekwondo Association at the 4th KTA Taekwondo Championship - 2019 and secured the 1st Place (Gold medal) and the 2nd Place (Silver medal) respectively.

Aiden L D'Almeida, Std 7, age 12, weight 66 kg, category – Cadet

At the Council school sports and games -2019, a National level tournament, held at the Padukone Dravid center for sports excellence from 3rd October to 5th October, SJBHS won several medals proving that with passion, commitment, excellent coaching and relentless practice, our boys can conquer the world.
In th U-14 boys championship, Akash Mani won silver in 100 m backstroke and 4 x 100 m medley relay. He won the bronze for 200 m backstroke. Shreyas Manjunath joined him to clinch a gold in the 4 x 100 m freestyle relay and 3 silver medals in 100 m breast stroke, 100 m freestyle and 4 x 100 m medley relay respectively.
In the U-17 Boys championship, Kalp S Bohra won 3 golds in 200 m breast stroke, 400 m IM, and 4 x 100 m freestyle relay. He also added the silver medals in the 100 m breast stroke and 4 x 100 m medley relay categories.
Our SJBHS girls shone bright in the U-19 category with Prerana winning 2 golds in the 200 m backstroke and 4 x 100 m freestyle relay categories and 2 silvers in the 100 m backstroke and 4 x 100 m medley relay races.
The total medal tally was an impressive 5 golds, 9 silvers and 1 bronze.
SJBHS adds another feather to its cap as Dhruv Talesara of SJBHS 11 B won the U-19 Boys Individual event in Table Tennis.
Dhruv (first boy from our school) will now represent CISCE in the SGFI (School Games Federation of India) Nationals. We wish him the very best!
The Foot & the Fist
In the first Karnataka State Beginners Taekwondo Championship held on 23rd August, 2019 at Decathlon Anubhava International Airport Road, the SJBHS Taekwondo team bagged 32 medals: 1 gold, 5 silver and 10 bronze medals in the Poomsae (forms) section of the tournament, followed by 4 gold, 2 silver and 10 bronze medals in the Kyorugi (fighting / sparring) section.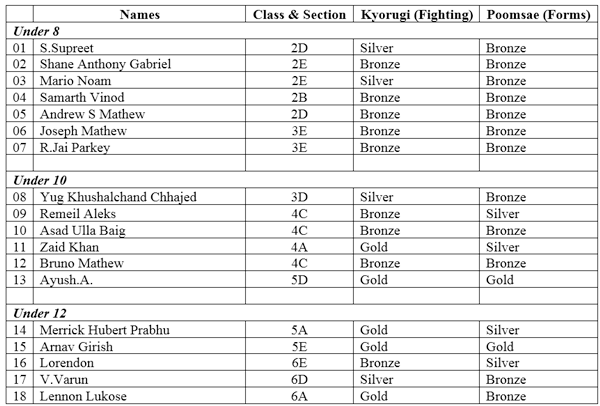 Champs for the Second Year Running!
The SJBHS U-16 cricket team played a fine innings at the KSCA Cup (Group I, Division I) cricket tournament on 27th August, 2019 against Delhi Public School (Bangalore South). DPS (South) played the first innings to tally 174 all out on the scoreboard with Aditya Rao claiming 6 wickets, conceding only 70 runs to the opposition. The SJBHS U-16 team retaliated strongly with a stellar 206 runs partnership between MB Shivam and Dhruv Prabhakar, as well as a 151 unbeaten third wicket partnership between Arsalaan and Amey VH.
The Josephite team were adjudged the champions second year in a row by virtue of their first innings lead. The stellar performance of the team was seen throughout the tournament, all credits attributed to the hard work of the team, coaches and the management and staff of the school.
Winning Streak
SJBHS has bagged a total of 7 medals (4 silver and 3 bronze) at the Third Soundarya Inter-School Swim Meet held at Soundarya Central School on 6th September 2019. The hard work of the team and coach has continued to be fruitful as the SJBHS aquatic team is on a winning streak with this being the third slew of medals in the kitty. The tally of the medals is as follows:
• In Group 1 Harshit Shah got a bronze medal in 200m Individual medley
• In Group 1 Chirag Choudhary bagged a bronze medal in 50m breaststroke
• In Group 2 Mohammed Ayman Ajaz earned a bronze medal in 50m Back stroke
• In Group 3 Ujwal Gowda snagged a silver medal in 50m breaststroke
• In the 4 x 50m free style relay, for Group 3,4 & 5, Jukesh, Ujwal,, Suhan and Jruthik picked up the bronze medal.
• In the 4 x 50m free style relay and the medley relay for Group 1 & 2, Harshit Shah, Md Ayman, Yashas Raj and M Jawaad claimed the silver medal in both categories.
Fight to the Last
The U-16 team of SJBHS are full of energy and enthusiasm, and tasted victory at the Cathedral High School Tournament held on the 9th and 10th of August 2019. They played the host team (Cathedrals) in the semis and moved up to the finals, where they played against Bishop Cottons Boys' High School. Our boys put up a good fight but missed the winner's title by a small margin, with the scoreboard reading 40:44. They were declared runners-up for the tournament.
SJBHS Slam Dunks It!
The Joseph's U-18 team participated in Gregorian Association Tournament organised by Rashtriya Military School from the 23rd of August to the 25th of August 2019. We topped the pool by winning against Rashtriya Military School and Army Public School . In the semi-finals against Frank Antony Public School, the game ended with a final score of 24:46. The exhilarating finals against Clarence High saw the team winning the match with a great score - 46:32.
Vidyashilp Tournament 2019
SJBHS Hat Trick!
The Vidyashilp Tournament occurred on the 29th of August this year. The final however was postponed and occurred on the 3rd of September. It was an amazing dream run for SJBHS where we beat Vidyashilp Academy B team 10:0 in the first game. We then continued the winning streak against Daffodils School as well as TISB.
It was an easy path to victory until the semi-final where we were confronted by the host team, Vidyashilp Academy. Against the host team, we had a 1:0 lead when they scored an equaliser with 7 seconds left on the clock. The match was an absolute thriller as it went in to penalty strokes. SJBHS beat the hosts with Viren, Tanuj and Varun converting in 8 seconds.
Our team faced St Joseph's Briand Square in a fairly easier game in the finals. We scored a goal early into the second half and the opposition hardly penetrated our defences. All in all it was an amazing tournament which concluded with SJBHS winning the tournament in style without losing a single game. 2019 is the third year in succession that we have won this tournament.
Fr Eric Vaz Memorial & Centenary Shield
In the finals of the prestigious annual inter school Hockey tournaments, SJBHS clinched a double victory on 6th August. In the Fr Eric Vaz Memorial U-14 (SJBHS beat FAPS) and in the Centenary Shield U-17 (SJBHS beat Vidyashilp Academy).
The exhilarating Centenary Shield final against Vidyashilp ended with a score of 4:2, with a sensational game from Shaun Victor, Viren Medeira, Varun Muthappa, and Tanuj D'Souza. Varun Muthappa was named the player of the tournament, while Daniel J and Robin Anto Lourd got the Best Back and Best Half mention respectively.
The SJBHS junior team has claimed the Fr Eric Vaz Memorial (U14) tournament shield for the second year running. They beat Frank Anthony Public School 4:2 in the penalty shootout after the teams were tied at the end of regulation time. Adesh David Naidu won the Player of the Tournament, while Jacob NJ was adjudged the Best Back.
CISCE Regional Sports & Games 2019
The aquatics season for SJBHS is here and there are bounties galore!
The SJBHS Swimming U-14 team brought laurels for the school by winning second place in the State Level CISCE Regional Sports & Games 2019 Swimming Championship held on 5th and 6th August 2019.

Pre-Subroto Football Tournament
St. Joseph's Boys' High School football team U-17 were the winners from the Bangalore regional round and qualified for the Pre-Subroto football tournament at Kolkatta between, 24th July to 27th July 2019.
From the moment the team landed on Wednesday 24th July, they were pitted in matches against CGS Missouri and St. Augustine, West Bengal. The first match against CGS Missouri proved to be a nail-biting game, with SJBHS scoring two goals to cinch a victory. The second match against St. Augustine proved to be even more challenging with the score reading 1-0 as the opponents gave tough competition.
With lack of recovery time for the team, the fatigued players were unable to hold out against St. Loyola, Orissa and Don Bosco, Kerala and thus could not qualify past the fixtures. The efforts put in by the team, coaches and our sports secretary were fully evident as everyone recognised the performance and calibre of the SJBHS team whose game strategies and teamwork shone as they faced tough opponents.
Under 11 Footballers Bring Home Trophy!

DPS Interschool Football Tournament
Another feather was added to the cap of St. Joseph's Boys' High School U 11 Football team as they emerged champions at the DPS Inter-school tournament on 6th July 2019 , gaining victory over DPS North with a score of 3:1 in a nail-biting match that saw our young champs give their best on the field. The team's training and their own determination was evident as they held the ground to finish a roaring 3 goals.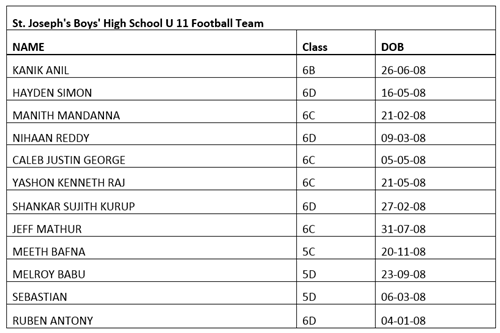 SJBHS U 17 Team Lifts 'Pre Subroto Cup'!

Council Sports
It was a proud moment for St. Joseph's Boys' High School's U 17 football team lifted the 'Pre Subroto Cup'. Held by the CISCE (Council for Indian School Certificate Examinations), the Sports and Games 2019 Regional Football Tournament, Karnataka was hosted by Ryan International School, Yelahanka.
In the final, our U 17 Football team beat Vidya Niketan with an impressive 7:0 to lift the cup. The tournament, also dubbed as the 'Pre Subroto Cup' was held at the Dravid Padukone Academy and FSV Arena from 1st July to 4th July 2019. A total of 44 teams were vying for the championship with 36 teams in the U 17 category and 8 teams in the U 19 category.
The school football team is now qualified to the next round which will be held in Calcutta, India for the Sub-Subroto Cup between 24th to 26th July, 2019.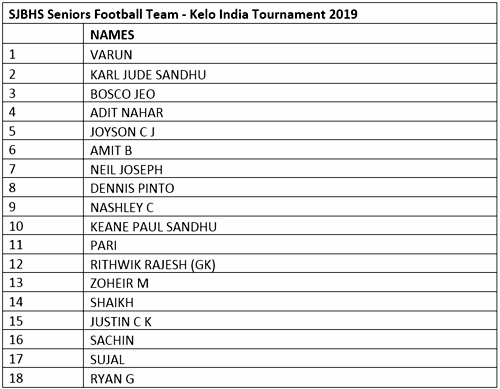 Inter School Swimming
The SJBHS Senior Swimming team participated in the 4 X 50 mt Baldwin Boys' School inter-school relay and were placed 2nd. The team: Akash Mani, Shreyas Manjunath, Kalp S Bohra and Calvin Antony Joseph.
KSCA Annual Awards Ceremony 2018 - 2019.

Under 16 Cricket Champions
The year 2018-19 saw an extremely successful and fruitful season for the U-16 Senior cricket team of SJBHS. Participation in many prestigious tournaments across various formats culminating in many wins.
The team won the prestigious KSCA U-16 tournament Chinnaswamy Stadium, Bengaluru after defeating Holy Saints School in the finals. A splendid innings of 175 by Md. Arsalaan and the 4 wickets bagged by Priyal Singh clinched the victory for SJBHS. The team also lifted the Runners-Up trophy in the Cottonian Shield and delivered an outstanding performance in the Ace Cup Tournament.
The school is particularly proud of the team with eight of its members representing the school at the U 16 KSCA Zonals, with Priyal Singh also being a part of the Karnataka State U 16 team. The school's glory was boosted further with three junior members from the U 14 team – Shivam MB, Dhruv Prabhakar and Aditya Rao bagging a place in the Karnataka State U 14 cricket team.
SJBHS fosters one of the best and most talented young cricket teams in the state. Our Principal, Vice Principal and Staff play a key role. Special mention must be made of Mr. Shivaprakash, a constant source of motivation for the team and Mr. Mahaboob, the school cricket coach who spends countless hours at practice sessions driving the team to excel at the game, along with our Sports Secretary Mr. Santosh Adam and sports coaches, Mr. Vincent, and Mr. Chinnappa. They are joined by our critical support staff – Mr. Antony, Mr. Stephen and Mr. Manohar who lend valuable support.
SJBHS Win Eric Vaz Memorial Trophy and Centenary Shield Cup in Hockey!

The Centenary Shield Cup is a Hockey tournament that aims to promote hockey among students at the High School level and is one of the most prestigious hockey tournaments in the city. The final match of the Centenary Shield Cup saw St Joseph's face-off against Baldwins. The final score was a thrilling 3:2, in our favour.
The Fr Eric Vaz Memorial Hockey Tournament was held between 29th June and 6th July, 2018. Since its inception in 1973, this tournament has been widely regarded as one of Bangalore's most prestigious inter-school tournaments in the under-14 category.
This year, the SJBHS junior hockey team took on seven teams from other schools around the city and emerged triumphant.
In the finals, our team faced their arch rivals from Vidyashilp Academy. Although the match finished in a 1:1 draw, our team proved their mettle in a nerve-wracking penalty shootout. Danush Shane from SJBHS was crowned Player of the Tournament.
Our Football Champions to Represent Karnataka
Our Football champions, Neil Joseph, Keane Paul Sandhu & Karl Jude Sandhu have been selected to represent Karnataka in the U-14.
The Gothia Cup International Youth Soccer Tournament Under-11, Sweden, saw a total of 101 teams from 26 different countries participate. We were placed Runners Up in our pool. Hearty Congratulations to the following team members and their coach Mr. Anthony. Sujith Nagaraj 5D, Bhavish Karthik Munichoodappa 6D, Aden Mario Benedict 6E, Liyan Thanveer 6B & Pranav Bhooshith Ajay Kumar 5B.
In the Chinmay Cup (Football Tournament), the Under-14 Josephite boys beat the Sarla Birla School to a 8-3 defeat in the finals of the Chinmay Cup. Best Player: Dhanush Shane 7B, Best Defender :Robin Anto Lourd 8D.
The Sub Junior (Under 10 emerged winners in the St. John's Inter School Basketball Tournament, beating Mallya Aditi 22:1.
The team: Harshith Raju, Ronson Serrao, Nakul Pampangowda, Jacob Thomas Maliekel, Thomas S, Hayth Nagori, Zacharias Mathew Z, Mathew C. Niavally, Henry Chiu Yee Min and Anthony Yakob Martin
U-12 Josephite Ranked 96 in Indian Tennis
In Tennis, our Kevin Titus 8B has won many medals and is currently ranked 96 in India in the U-12 Boys' Singles and will move to 84 after these points get added. Boys Under -12 All India Ranking Tournament, July played at Tennis Temple Rajajinagar, Boys' Under-12 Singles Winner, 1st AITA Ranking Tournament Played at Rohan Bopanna Tennis Academy, Yelahanka, Boys' Under-12 Singles Winner, AITA Ranking Tournament Played at Pro-Team Tennis Academy, Boys' Under-12 Singles Winner.
Golfers Bring Home Medals
The following boys were scouted to play I-League Season 2018-2019: Neil Joseph, Keane Paul Sandhu, Karl Jude Sandhu & Venkatesh P.
Nakul Pampangowda 3A was adjudged the 2nd Runner-up in the 'E' category of the IGU-WGC South Zone Junior Golf Championship 2018, held at JWGC Mysuru on the 21st, 22nd and 23rd of June , 2018.
Arjun S. Kumar, UKG E, secured the first place in the Under-6 Category for the 300 and 600 metres open District Skating Championship held on the 28th and 29th of July, 2018.
Boys Bring Home Plenty of Swimming Medals!
DPS- North held a swimming competition Sigma Impressions. We won 13 Gold, 4 Silver and 6 Bronze medals.
•

Daniel Paul J. 3C 25m Breast Stroke – Gold, 4x25m Free Style relay – Gold, 25m Free Style- Bronze & 25m Butterfly - Bronze

•

Yuvan Adithya S. 3E, 25m Free Style – Gold & 4x25m Free Style relay – Gold

•

Adrian Neil Serrao 3C: 4x25m Free Style – Gold, 25m Back Stroke – Silver & 25m Breast Stroke - Bronze

•

Shawn Dominic Noronha 3E: 4x25m Free Style relay – Gold

•

M. Dheeraj Std 5 D: 4x50m Free Style relay – Gold, 50m Free Style – Silver & 50m Back Stroke – Bronze

•

Ryan Noble T Std 5D: 4x50m Free Style relay – Gold

•

Ryan George Joseph 5E: 4x50m Free Style relay – Gold

•

Sri Ram T.S. 6A: 50m Breast Stroke – Bronze

•

Rylan Shawn Noronha 6A : 4x50m Free Style relay – Gold

•

Calvin Anthony Joseph 7E: 4x50m Free Style relay – Gold & 50m Breast Stroke – Silver

•

K. Nikhil James 9E: 4x50m Free Style relay – Gold

•

Jrenoth Misquith 10D: 4x50m Free Style relay – Gold & 50m Butterfly – Bronze

•

Gaurav Kumar 10E: 4x50 Free Style relay - Silver
ISC Girls Basketball Team Come Out on Top
The ISC Girls Basketball team participated in the intercollegiate relay conducted by St. Joseph's Composite PU College, and were placed First. The team: Miriam David, Vira, Simone Roy Thomas & Nischitha K.R.
The Council's National Sports and Games interschool Badminton Tournament Shubhank Shah 10A and Rishab Justin 6C were placed Second in the junior boys (Under-17) doubles category. Interschool Swimming Competition: Kalp S Bohra (Under 17); Gold in 50m Butterfly, Silver in 50m Breast Stroke and Silver in 100m Breast Stroke; Yohaan (Under-19): Silver In 100m Breast Stroke and Bronze In 50m Breast Stroke.
SJBHS ISC and ICSE relay teams participated in the Interschool Relay conducted by FAPS and were placed third.
ISC team:
Prateek Reddy
Naman Bafna
Amruth Bala
Prajwal Sancheti
ICSE team:
Carlin Joseph
Joyson C J
Samarth Dinesh
Keane Paul Sandhu
SJBHS ICSE relay teams participated in the Inter Jesuit Interschool Relay conducted by SJIHS and placed third. The team: Sam Varghese, Aayush Birju, Jonathan Francis, Adrian D'Silva & Karthik M.D. At the Combined Annual Training Camp (CATC) Hoskote, our National Cadet Corps (NCC) boys were awarded medals and certificates:
Best Cadet Awards: Simeon P, Lohith Prasad, Roshan Herbert & R. Sriram. Certificates: Cyril Wilson, Meet Kumar, Arjun P. Menon, Abhinav S, Tejeswar Rao, Akshaya Kannan & Immanuel Shennal.
Annual Athletic Meet 2018
Sports Day is an important calendar event for every Josephite and is a celebration of true camaraderie, companionship and teamwork. St. Joseph's Boys' High School has produced an array of extraordinary sportsmen. SJBHS takes great pride in the likes of Walter D'souza, Patrick Jansen and Rehan Poncha, among others. As a result, our school celebrates the annual Sports Day with enormous pomp and show.
The Annual Senior School Sports Meet was held on the 31st of August 2018. Months of hard work and vigorous training paid off and it culminated in stunning drill displays, which included the traditional club swinging display by the graduating class.
A contingent from the Old Boys Association (Batch of 1993) marched with the students in the grand opening ceremony. The Chief Guest, Mr. Nandan Kamath, an Old Boy, reminisced on his school days and discussed the vital role of team spirit and sportsmanship in the growth of an individual. Students participated in a number of athletic events and emerged victorious after months of dedication and perseverance.
In the afternoon, the Chief Guest for the closing ceremony, Dr Albert Shaw, shared the dias with the Provincial of the Karnataka Jesuit Province, Rev Dr Stanislaus D'Souza SJ for a moving and colourful end to a historic day.
Junior Sports Day was a day of colour and excitement. It was held on 30th August, 2018, and the Chief Guest for this occasion was Mr. Anup Sridhar, a Badminton Player, Olympian and Old Boy. The day began with the march past by the children from grade 4 and below. Various sporting activities were held for the little ones, who played to win. They also performed truly remarkable drill displays. For our youngest boys, the experience was truly enriching.