Under 11 Footballers Bring Home Trophy!

DPS Interschool Football Tournament
Another feather was added to the cap of St. Joseph's Boys' High School U 11 Football team as they emerged champions at the DPS Inter-school tournament on 6th July 2019 , gaining victory over DPS North with a score of 3:1 in a nail-biting match that saw our young champs give their best on the field. The team's training and their own determination was evident as they held the ground to finish a roaring 3 goals.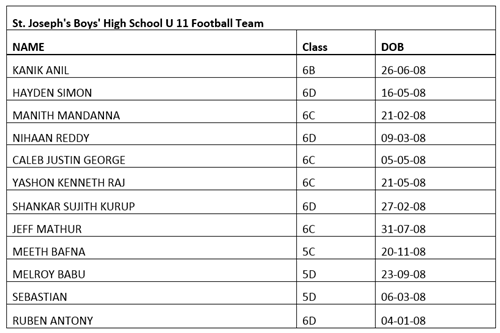 SJBHS U 17 Team Lifts 'Pre Subroto Cup'!

Council Sports
It was a proud moment for St. Joseph's Boys' High School's U 17 football team lifted the 'Pre Subroto Cup'. Held by the CISCE (Council for Indian School Certificate Examinations), the Sports and Games 2019 Regional Football Tournament, Karnataka was hosted by Ryan International School, Yelahanka.
In the final, our U 17 Football team beat Vidya Niketan with an impressive 7:0 to lift the cup. The tournament, also dubbed as the 'Pre Subroto Cup' was held at the Dravid Padukone Academy and FSV Arena from 1st July to 4th July 2019. A total of 44 teams were vying for the championship with 36 teams in the U 17 category and 8 teams in the U 19 category.
The school football team is now qualified to the next round which will be held in Calcutta, India for the Sub-Subroto Cup between 24th to 26th July, 2019.